For the new year, I did my budget, and I can buy all the bras I really want. Not that I kinda-sorta want, and not bras over $100, but the ones I look at repeatedly and wistfully and think 'well I don't really NEED another bra but that looks so cool and I don't want to miss it before it's out of stock'. So I have more than I need, and count myself very fortunate, and thought that checking new styles out never hurts.
With that in mind, I thought I'd do some window shopping while on the East Coast for the holidays. I knew I'd be in Manhattan for some of it and…I met Sweets of Sweet Nothings! Fortunately (if I cared about dignity) I stopped myself from fangirl-squeeing and distracting the child sitting near me and just talked with this extremely classy dame while wandering around Journelle at Union Square. They only had one bra around my size to try, though: Miss Mandalay's Amelie.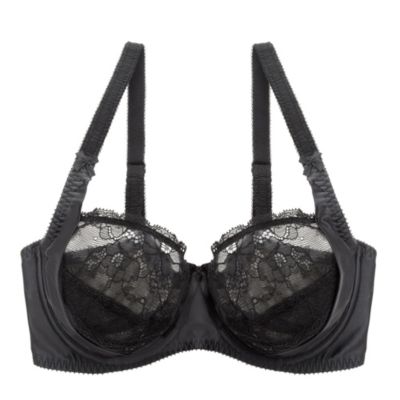 Miss Mandalay's a brand I've heard good things about but never tried. The Amelie features stretch lace on the top part of the cup, and I think stores could promote this as an alternative to the Panache stretch lace bras because it accommodates many shapes. I felt supported because of the rest of the structure. Sadly, the bra seemed too small. The gore floated and the cups may have cut in a bit. There was some straining/wrinkling of the fabric near the strap, which seemed possibly problematic. I remember Sweets might have thought the black color ran smaller than the fashion ones. However, the store did not have a 34G in stock, they recommended we go to the SoHo location to try that and look at the All Undone Mai.
After some subway backup, Sweets led me through the falling snow to the SoHo Journelle, just as pretty as the Union Square one. We were able to find the Mai in 34G and Amelie, as well! Amelie almost fit. Almost. I could live with the gore slightly not tacking if I'd been a fan of the design otherwise. It's gorgeous, ladylike, feminine, grown-up, but I didn't feel like it was for me. The Mai was definitely not my color, white and cream on my skin feels a little sad somehow. I think if the pink had been gold I would have been sold, so to speak. Anyway, I had another floating gore issue! I was rather surprised to find this with two bras in a row, it's not a problem I have often since I don't have much projection. Sweets noted that the cups of the Mai are shallow near the gore so that my breasts were pushing it out. That was a little sad, and I hope that All Undone tweaks the fit or makes a style where fewer people have insecure gores.
Journelle is beautiful in a Gallic sort of way. It's light-colored and airy. The displays are arranged smartly. There's a good array of bras at different price points for 'core sizes' that are all elegant. Also, their own-brand pajamas are gorgeous and pure silk. My one lament is that there's so little in my size. The dressing rooms are inviting with water and chocolate, and the salesladies were helpful and accommodating without hovering. It all felt tasteful and sophisticated while remaining an inviting place.
Sweets knows so much about the full-bust lingerie market, and she's generous with that knowledge. (She also has that warmth and put-together-ness, the kind that projects competence and confidence.) She told me that what she wants to do is help people find a good match in a bra without judgment. I found a lovely interview on Bluestockings Boutique with incisive commentary on diversity and subversive body image standards.
So, fedora hats off to Sweets and Journelle! I'm so glad I made it into the city.